Bees in the News
The news media almost never gets it right when it comes to reporting about bees. Usually, they don't report the facts. Instead, they tend to resort to distortion, scare tactics and sensationalism. Click here to view some of the bad press beekeeping gets.
Good Press
Luckily, some groups are working hard to improve the general public's awareness of the benefits of beekeeping. Here's an article from the front page of the Houston Chronicle's This Week (Humble/Kingwood/Atascocita edition):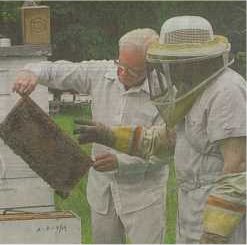 June 12, 2001, 6:55PM
Beekeepers' group sees sweet future
County association helps educate public while pursuing hobby
By KATIE ELSBURY
Chronicle correspondent
Although the thought of thousands of bees inhabiting their backyard may make most people a bit uneasy, it is a dream come true for members of the Montgomery County Beekeepers Association.
Since the organization's inception in 1975, its members have been cultivating the art of gathering honey and educating themselves and the public about bees.
Splendora resident Donnis Ivy, association president, has 10 beehives housed in specially-designed boxes at his home.
At one time, he had as many as 22 hives.
"When I first began keeping bees, it was more or less just a hobby and I began with about five hives. I now have too much honey for myself, so I give most of it away as gifts to friends and family," Ivy said. "I don't get stung that often, only when I go in to harvest the honey."
Ivy and other members of beekeeping organizations throughout the Houston area buy their bees from keepers whose own supply has grown too large.
Bees also are shipped via the U.S. Postal Service.
"You can actually buy a three-pound package of bees for about $50. They can be shipped in the mail or can be picked up," Ivy said.
While the practice of beekeeping has become less prominent as life-styles have turned toward more urban settings, Ivy said keeping bees does not require much room.
"I have heard of people who have set up hives on the balcony of their apartment. You might want to check with someone before you do that. If you have enough room to place a 16-inch by 20-inch rectangular box that is 10 inches deep, you have enough room to keep bees."
However, Ivy suggests a little research is needed before ordering bees.
"There is a lot to learn about bees and that's why we sponsor one or two young people each year to get them started with their own hive and teach them how to properly keep bees."
Aside from mentoring children, Ivy visits schools throughout the year and sets up an observation hive.
The hive, encased in clear plastic, allows students to witness the inner workings of a bee colony.
"We often place a dot of color on the queen so that the students can pick her out easily. They always have more questions than I have time to answer," Ivy said.
Ivy has amassed a knowledge of bees throughout the years and has even called himself "a remover of bees."
With a specially modified vacuum cleaner, Ivy often removes unwanted bee infestations from homes and businesses.
"We usually just ask for a donation to the club for removing the bees. We are glad when people call us because we will relocate the bees instead of destroying them. People don't realize how necessary bees are to the survival of many of our food crops."
Bees pollinate a large amount of the Texas food supply. Large bee suppliers are paid to take bees to different crops throughout the state to ensure pollination.
The Montgomery County group has around 35 members and is seeking more who are interested in learning about beekeeping.
"We are always looking for new members, but we also welcome visitors and you don't have to have any bees to be a member or come to the meetings," Ivy said.
The association meets the second Thursday of each month from 7-9 p.m. at the Friendship Center, 2015 N. Frazier in Conroe.
For more information, call the association at 281-689-3776.